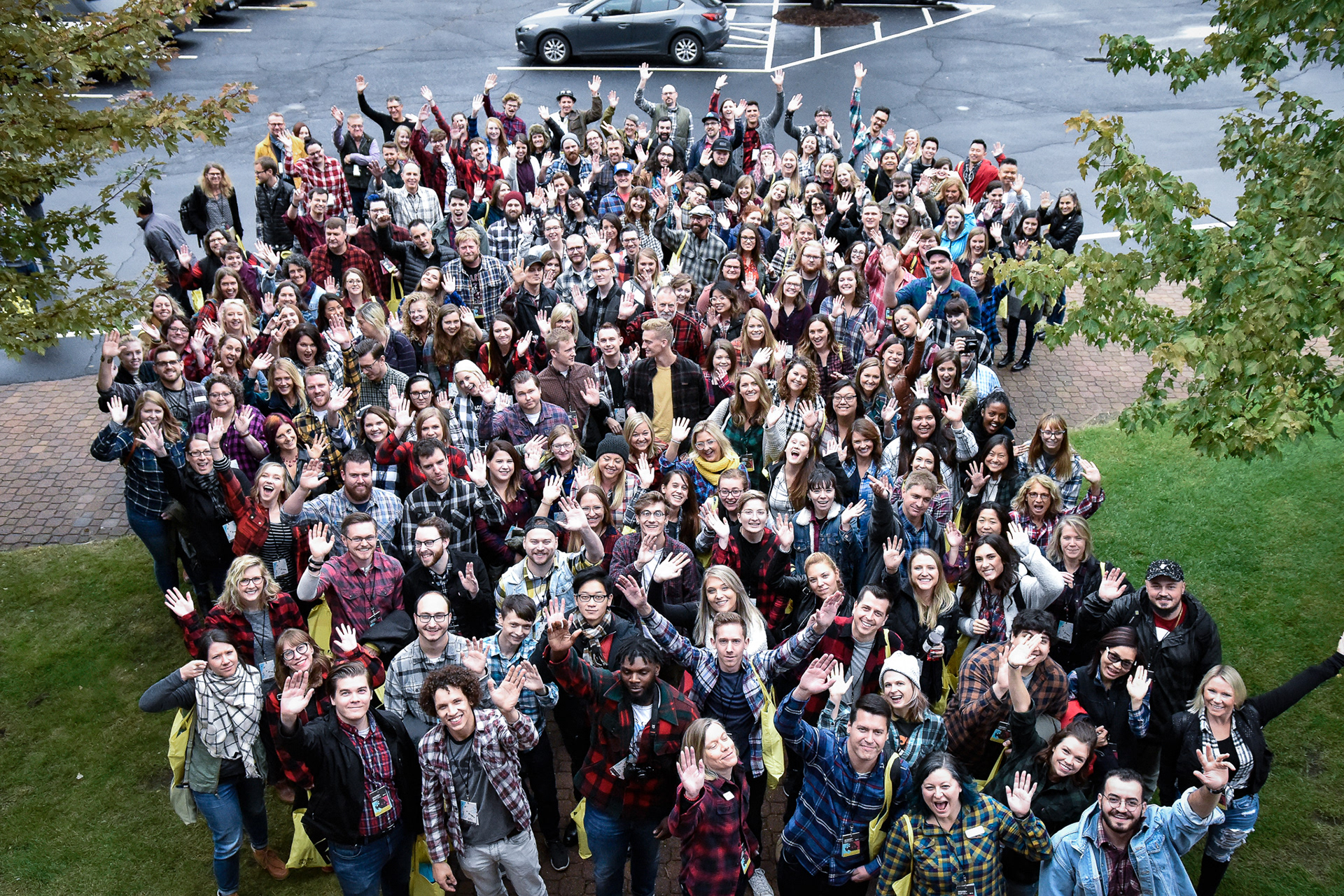 I set out Thursday morning to Brainerd, Minnesota in hopes of taking a few nice photos over the weekend. I was little aware, however, of what would actually take place over the next four days. This little golf resort, neighbored next to the unfortunately named 'Kavanaugh's Resort', would come to live quite comfortably in my heart. It's place as a mile marker in my creative journey etched in stone.
To preface the entire event, I was up here working with Heibrid. In part, being behind the curtain, both literally and figuratively, kept me immersed. I had moved past enjoying festivities towards absorbing the core of what Design Camp was all about. Being surrounded by a couple hundred designers, illustrators, mentors, producers, and creators never hurts either.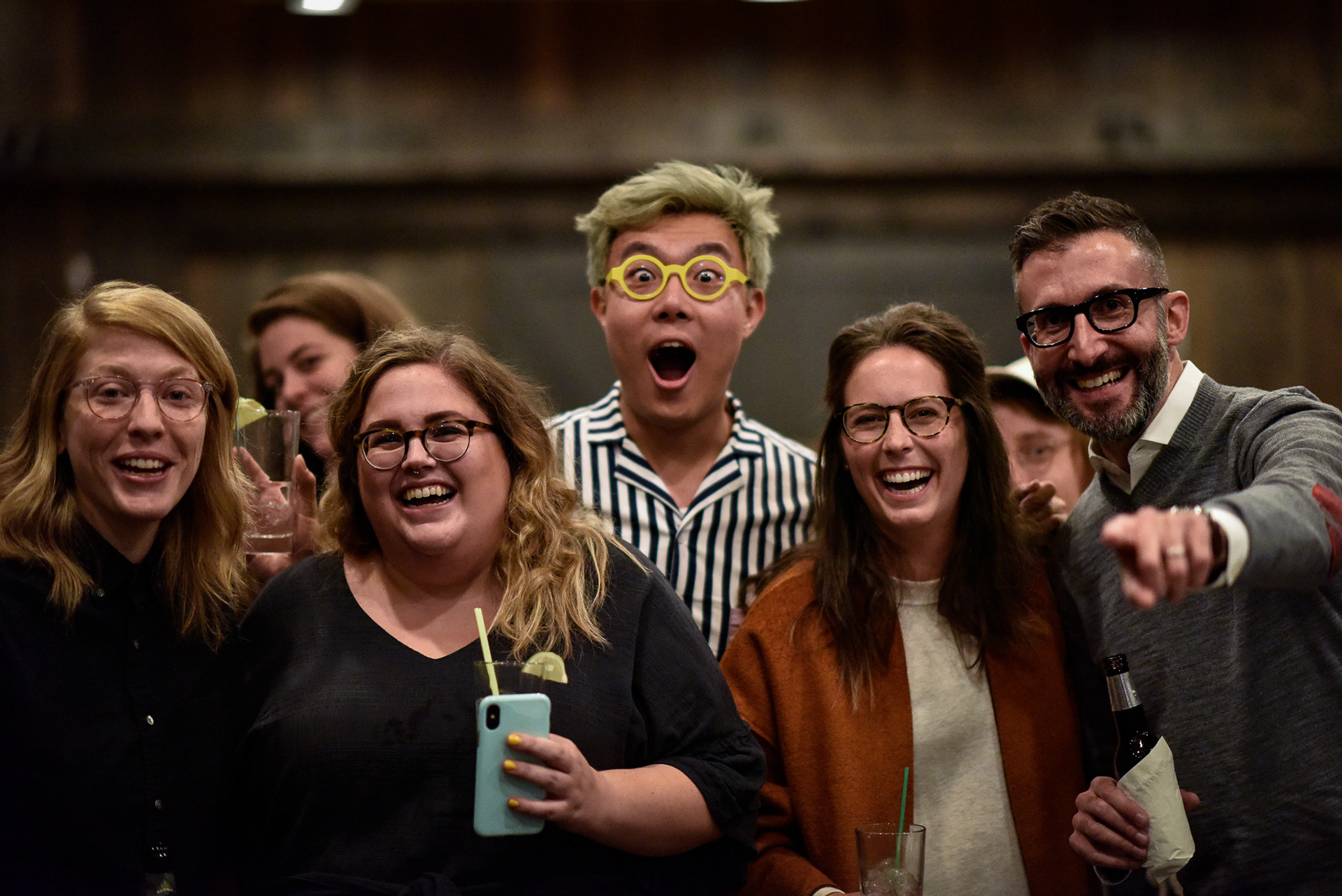 Waves of intimidation set in immediately at the Thursday night President's Dinner. Chalked full of industry contributors, professionals, and seasoned veterans, all in one room. Coming hot off the heels of a stint plagued by imposter syndrome, I began telling myself this would all be different. If I was going to be behind a lens all weekend, it would require me to drop all expectations, build relationships, and leap outside of my comfort zone.
After having my first brush of what would inevitably consume my entire weekend, I regrouped and prepared for the great camper migration to come the following morning.
Happy faces were not hard to find. Cars quickly filled the empty lots, Redwing boots clapped the pavement like horse hooves on hollow ground. Freshly brewed beans awaited campers as they herded to the main auditorium, awaiting the adventure that came next.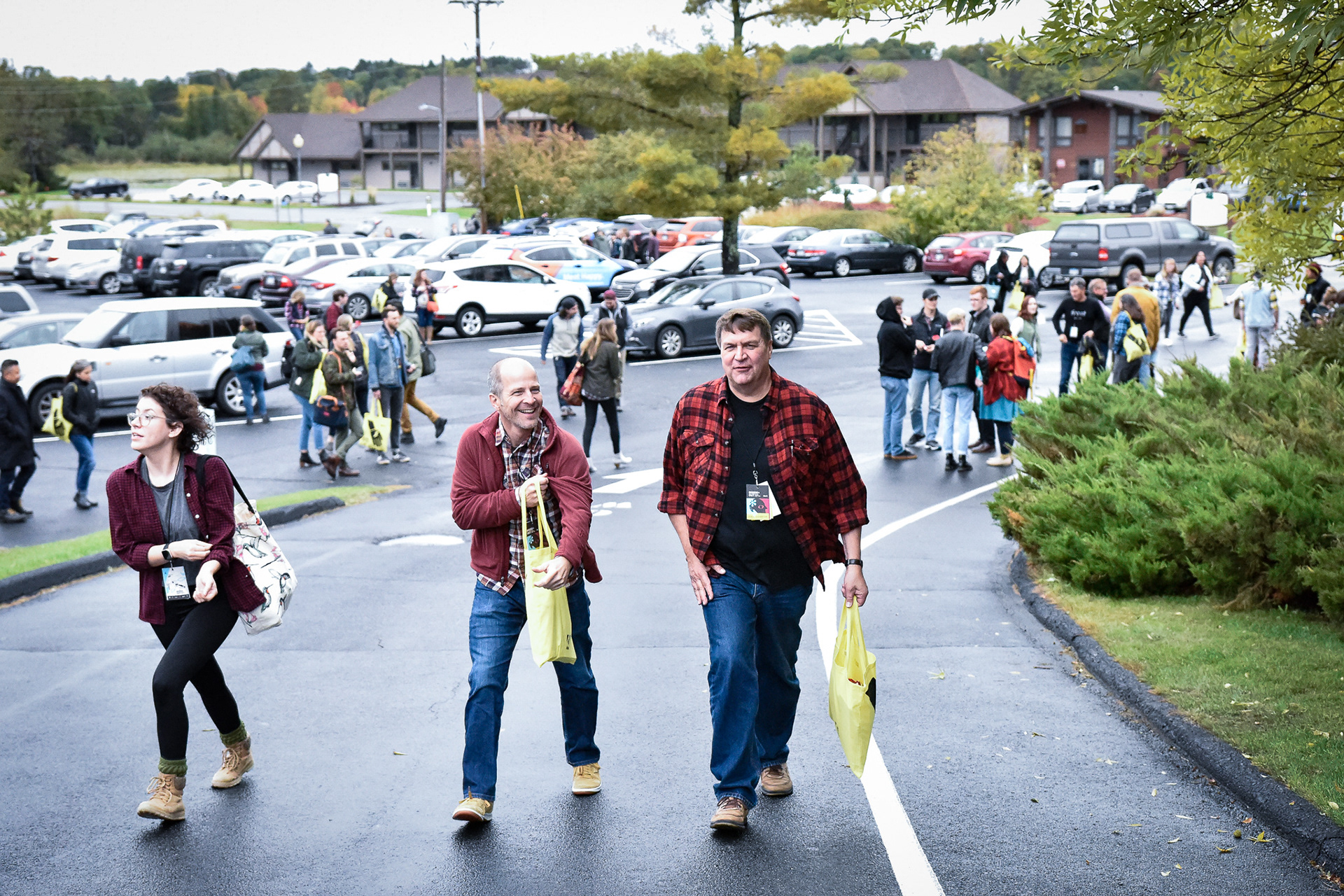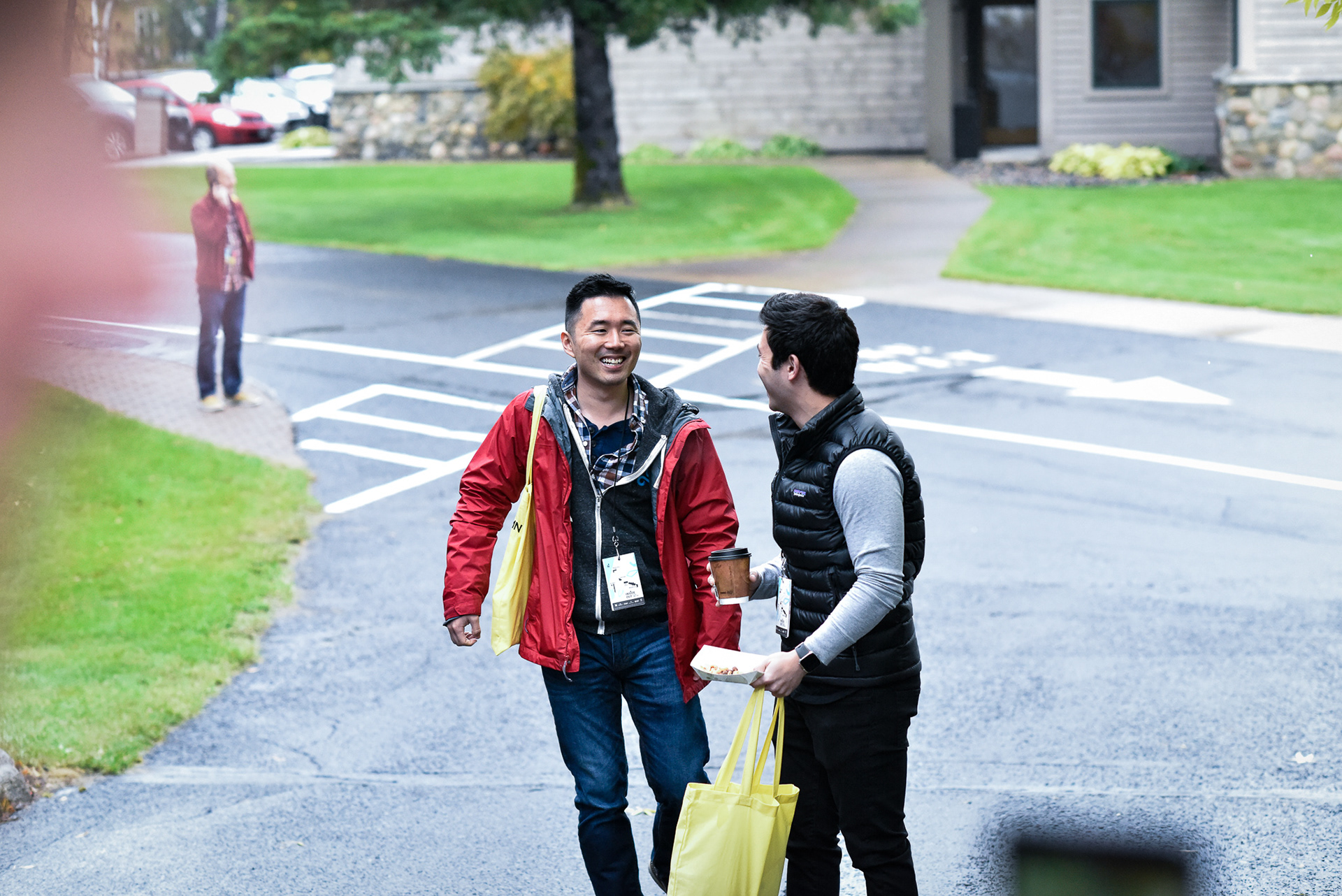 Day one kicked off with
David Hartman
, Senior Creative Director at Target, where he leads the Brand Design Lab within Target Creative. His team has led large scale brand reinventions and the development of new brands including Opalhouse, Universal Thread, Goodfellow & Co, A New Day, JoyLab, Project 62, Cat & Jack, Smartly, Heyday, Wild Fable and Original Use.
While I may have jacked the bio above straight from his
site
, I was no stranger to his work. Having been exposed to fellow Target employee, formally titled Chief Creative Officer, Todd Waterbury during my time directing the 2018 Student Advertising Summit, I was all too familiar with recent innovations at the retail monolith. 
As I had prepared for, David spoke on the numerous brands he uplifted under the Target name. From turning boring food into beautiful groceries with
Market Pantry
to a generational sophistication of accessible menswear through the brand
Goodfellow & Co
. He spoke on having to chart a entirely new concept after hitting a copyright bump two days from deadline, and executing with flawless fervor. But, more importantly I noticed his title slide, quoted in classic Helvetica, which spoke to me the most.
"

Why never having it all together is 
the only way I can get it all together.

"
-david hartman
The whole concept of organized chaos has always interested me, and I'd like to think this is what David was getting at. Being busy is fun, but doing what you love all the time AND being your whole self to friends and family can be exhausting. You have to find the right balance. 
That's when you find your sweet spot.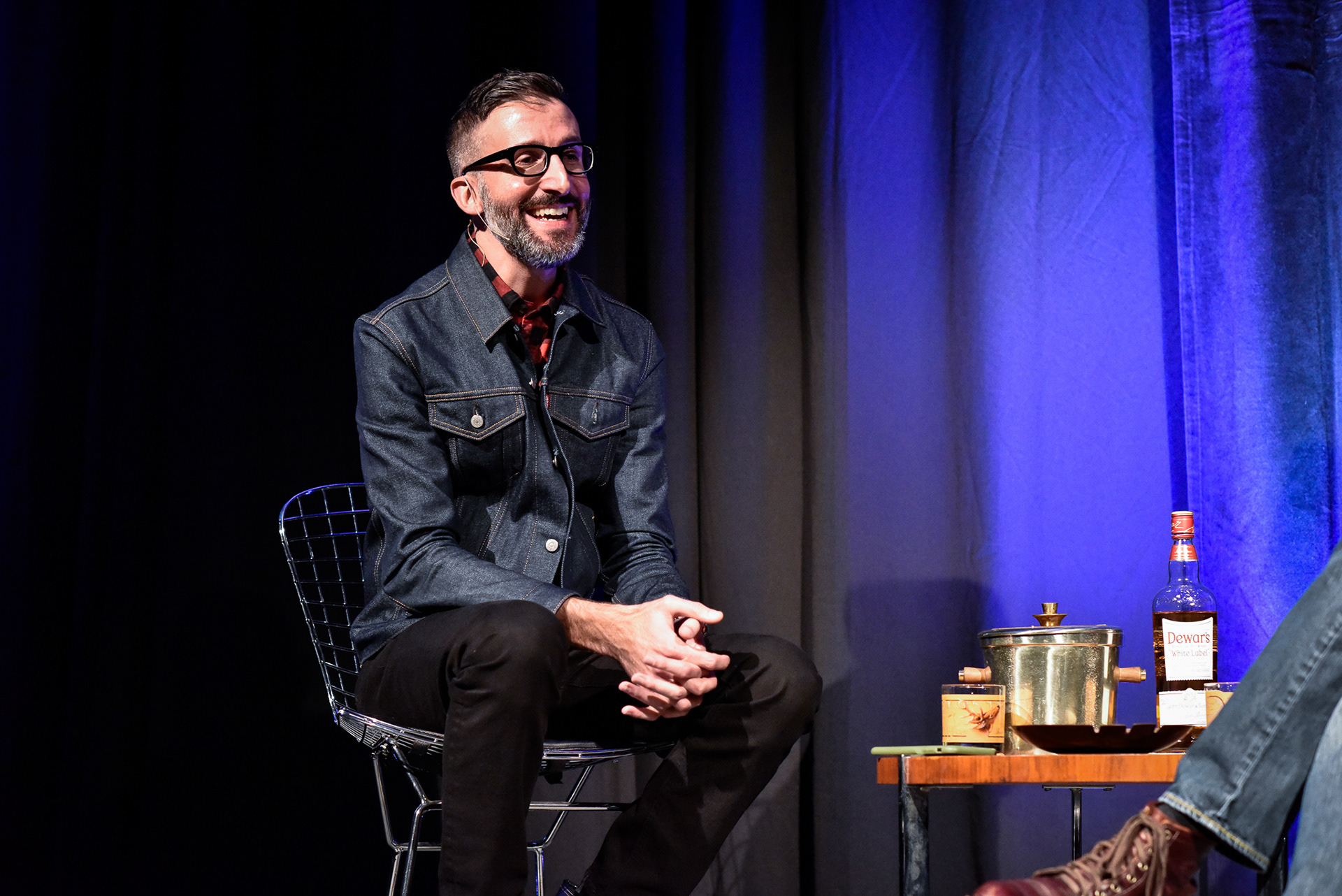 After a round of workshops and Design Camp's infamous celebration of
Plaiduray
, we sat down with 
Lauren Dickens
. Native Texan, Dog Freak, Pro Punner, Basketballer, Ladydude, Bon Vivantish (her words not mine.) She's worked with some killer brands including Patagonia, Facebook, SXSW, and Minneapolis fan-favorite Bauhaus BrewLabs.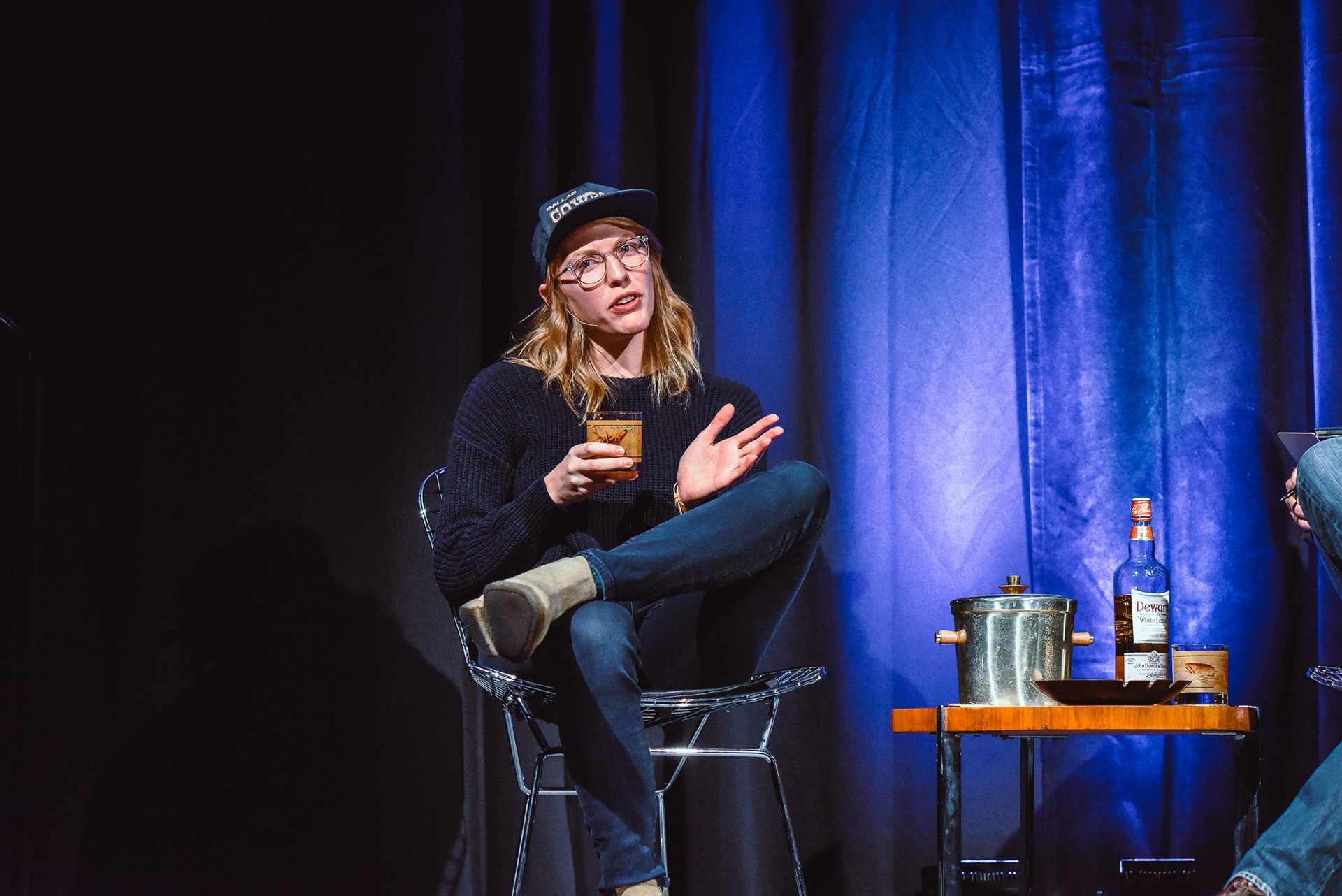 While slides of her work reinforced the pun-star's witty approach, I latched to a particular idea. She called it 'Brains to Britches'. At a point in her life she had realized the particular power of putting on pants in the morning. It's your first instance of daily productivity. Don't believe me? Try leaving the house without pants. 
On a grander scale, it's about cultivating your ideal environment. Find whatever motivates you to do better work, and put more of it in your life. Lauren said it best,"Work with folks you like."
Next up, food. Empty creative stomachs are never to mess with, so I grabbed a few shots and just as I was about to leave something happened. A wave of fear and anxiety rushed through my body as unvalidated thoughts of inadequacy capsized my mind. Something that night prevented me from sitting down, so I left to take a walk through camp. Nature has always been a good friend to me.
I felt small and insignificant. Stillness and fog plagued the air making each step feel like a mile. I didn't feel like taking pictures, I didn't feel like speaking to anyone, so I just kept walking. 
Making my way to the main lodge through dimly lit walk-paths, I came upon two deer, instantly stopping me in the moment. Now, I've lived in a rural community my entire life, so wildlife wasn't unusual. Whitetail deer, if anything, exist as vegan road-hazards. Beautiful, typically graceful animals that draw to headlights like moths to lamps. But when nature and man-made society syndicate, it's like something out of a movie. I slowly raised my camera to capture the young doe who hadn't bolted away yet. Frantically attempting to work extreme low-light situations for essentially the first time, every shot I took was blurry. I spotted a large cement post about 15 feet further up than where I was. I moved over slowly and got in a steadier position. It still took a couple tries but I had got it.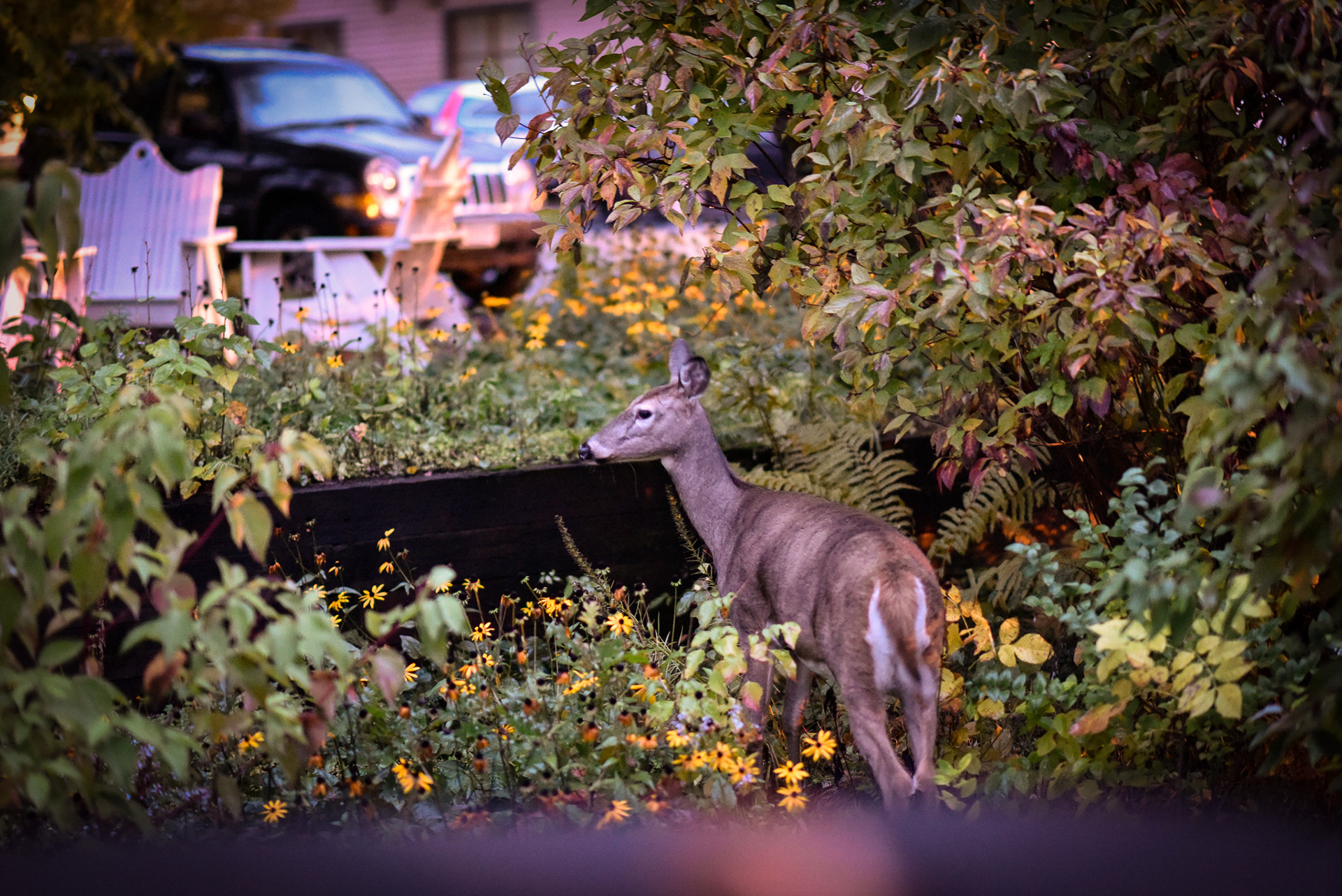 Design Camp parties are no joke. I spent the first half of Saturday munching on ice cubes and appreciating coffee. Making it down to
Zipeng Zhu
's presentation. His personal style had been a walking art show all weekend so it came as no surprise when his objective came to light.
"

[my mission is]
 to make everyday a
razzle-dazzle 
fucking musical.
" 
-zipeng zhu
It was true in every corner of his story. Outside of an illustrious career in design working for agencies like
Pentagram
 and
Sagmeister & Walsh
, he spoke about not having the option to fail. High parental expectations led him to pursue a career in art and a life's obsession with
Sailor Moon
. Producing work at lightning speed and owning his personality was motivating and refreshing considering the current state of politics in America.
The infamous Design Camp bonfire was to follow. Groups moved from trivia out in to the half-chub tundra we've come to know as Midwest Autumn. Nothing a boatload of Summit IPAs shared around a sweltering fire.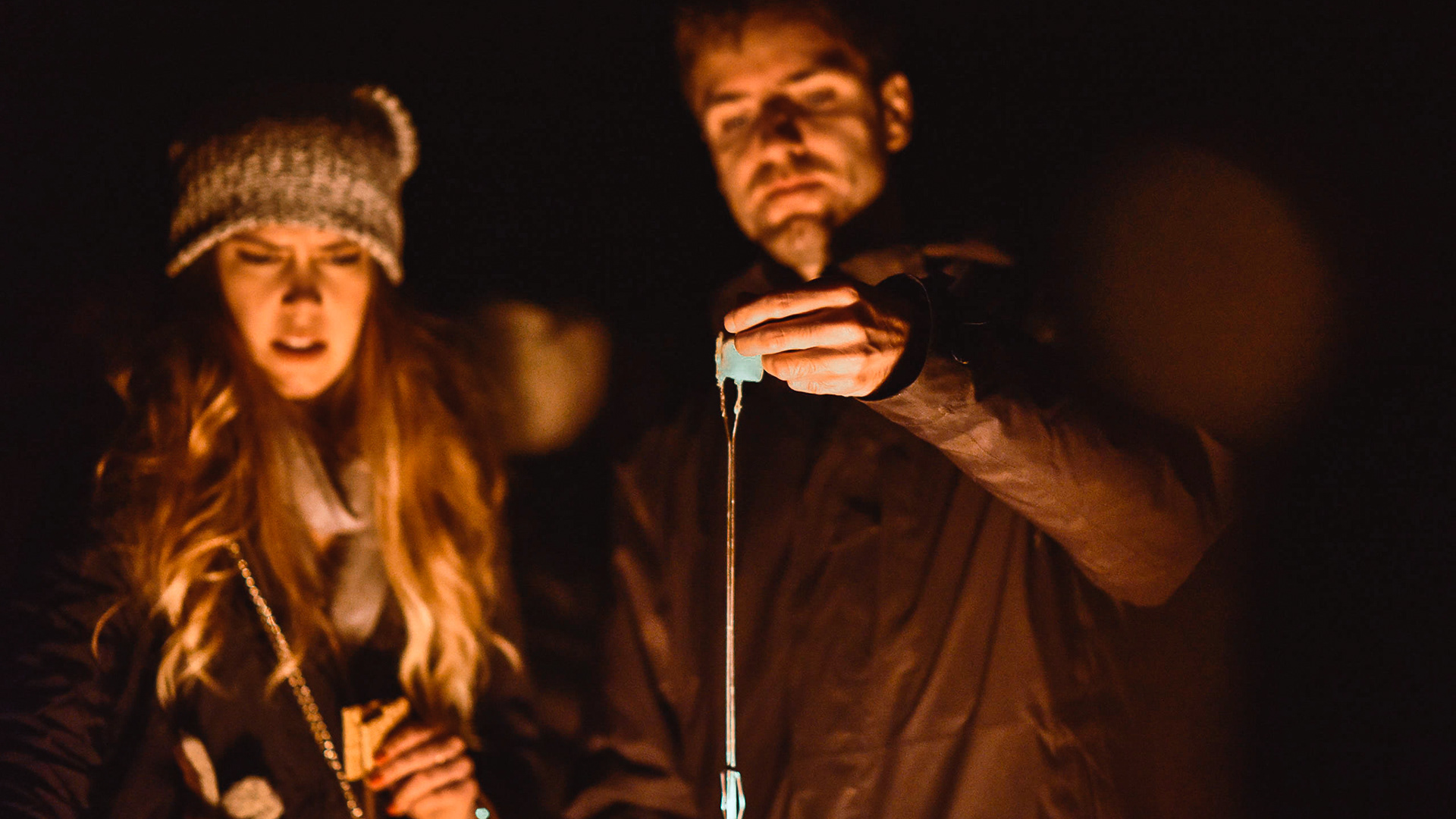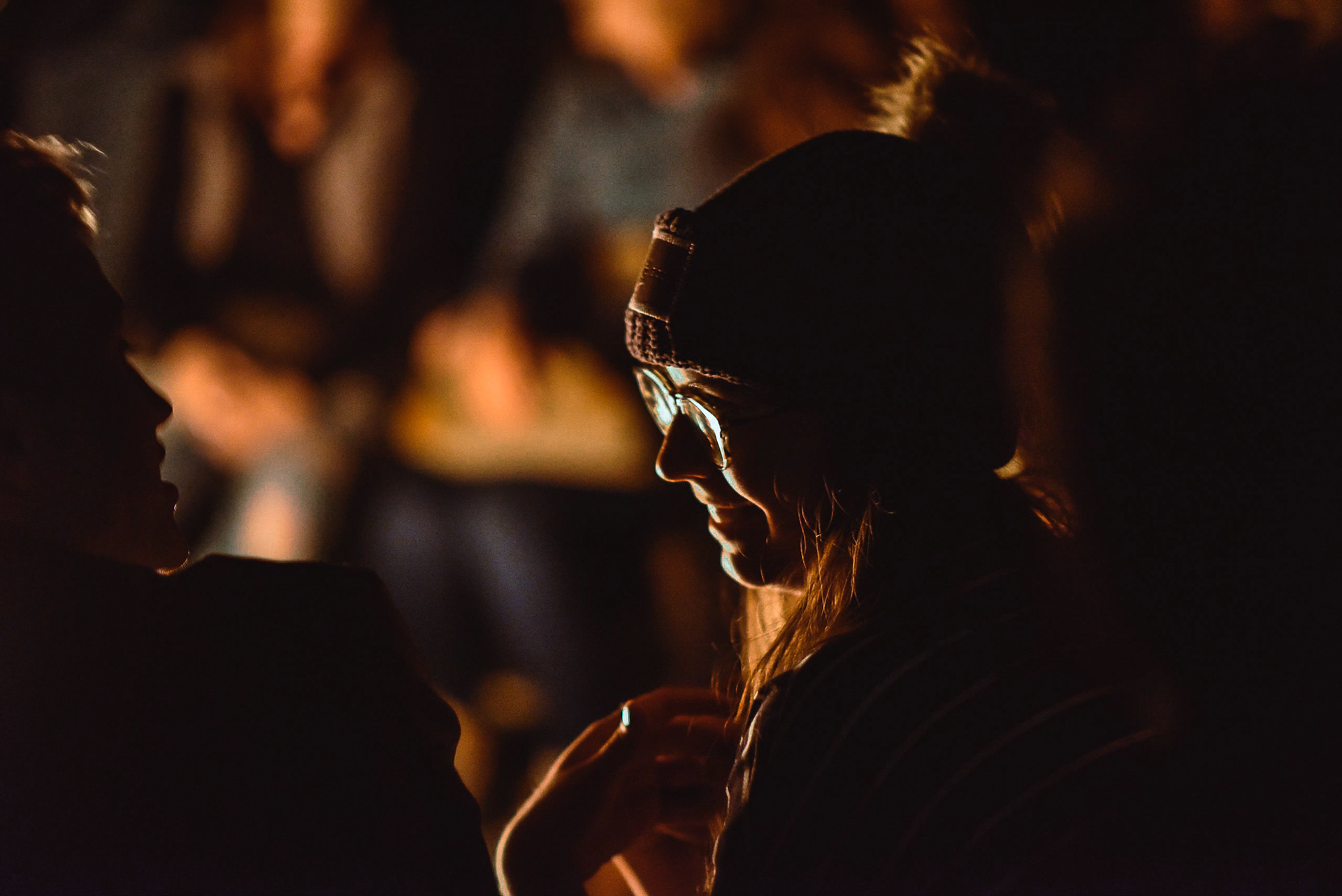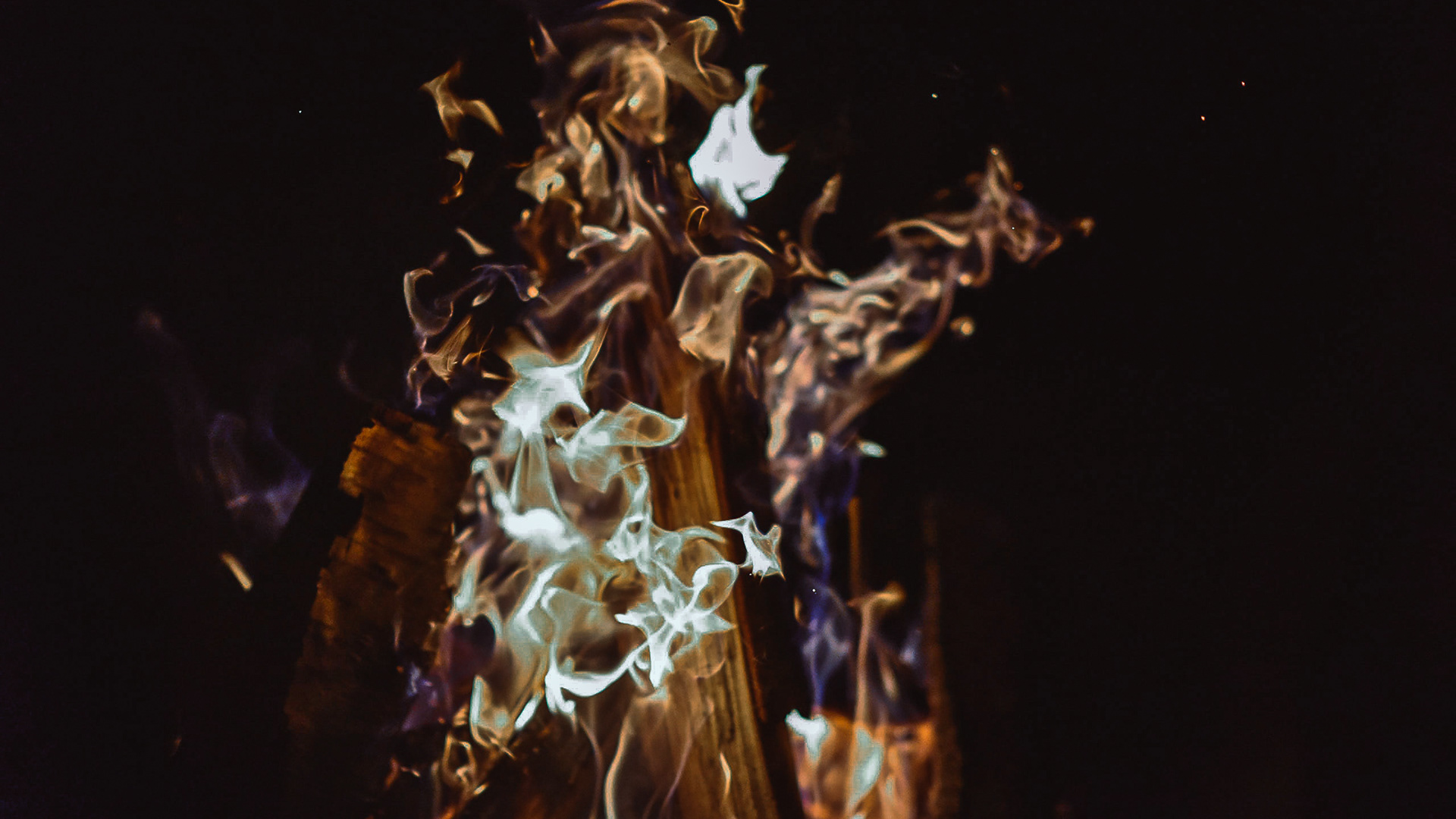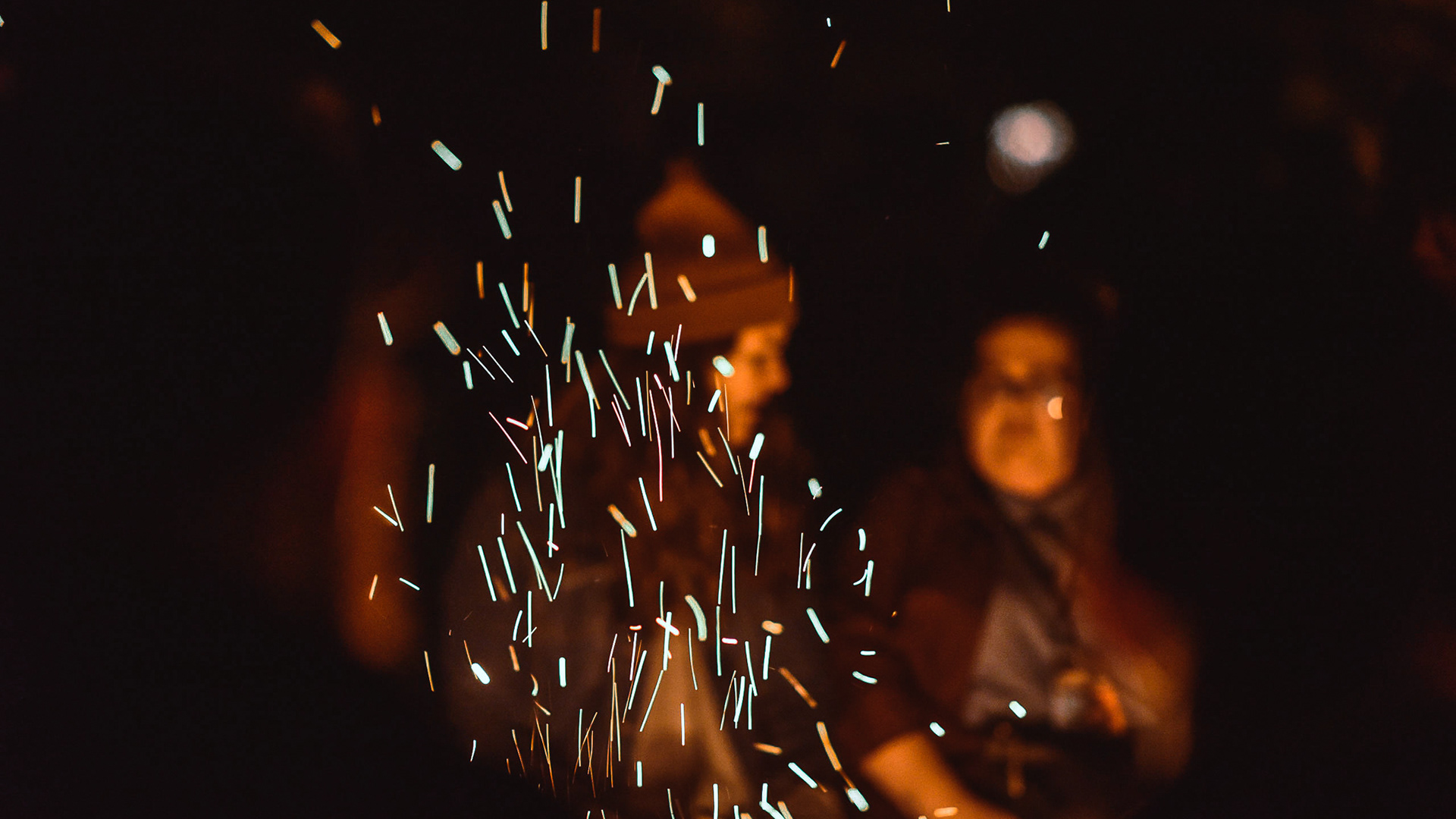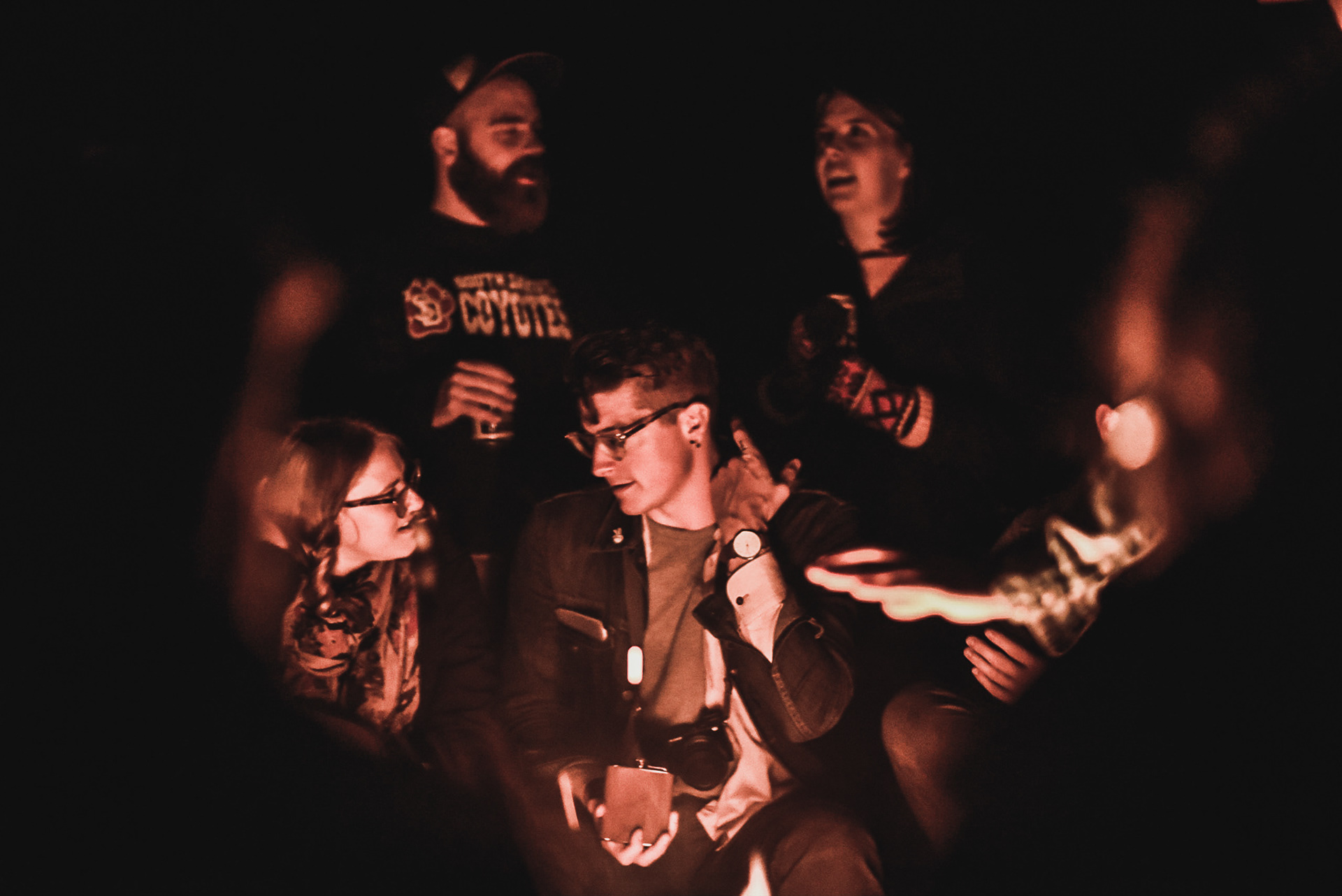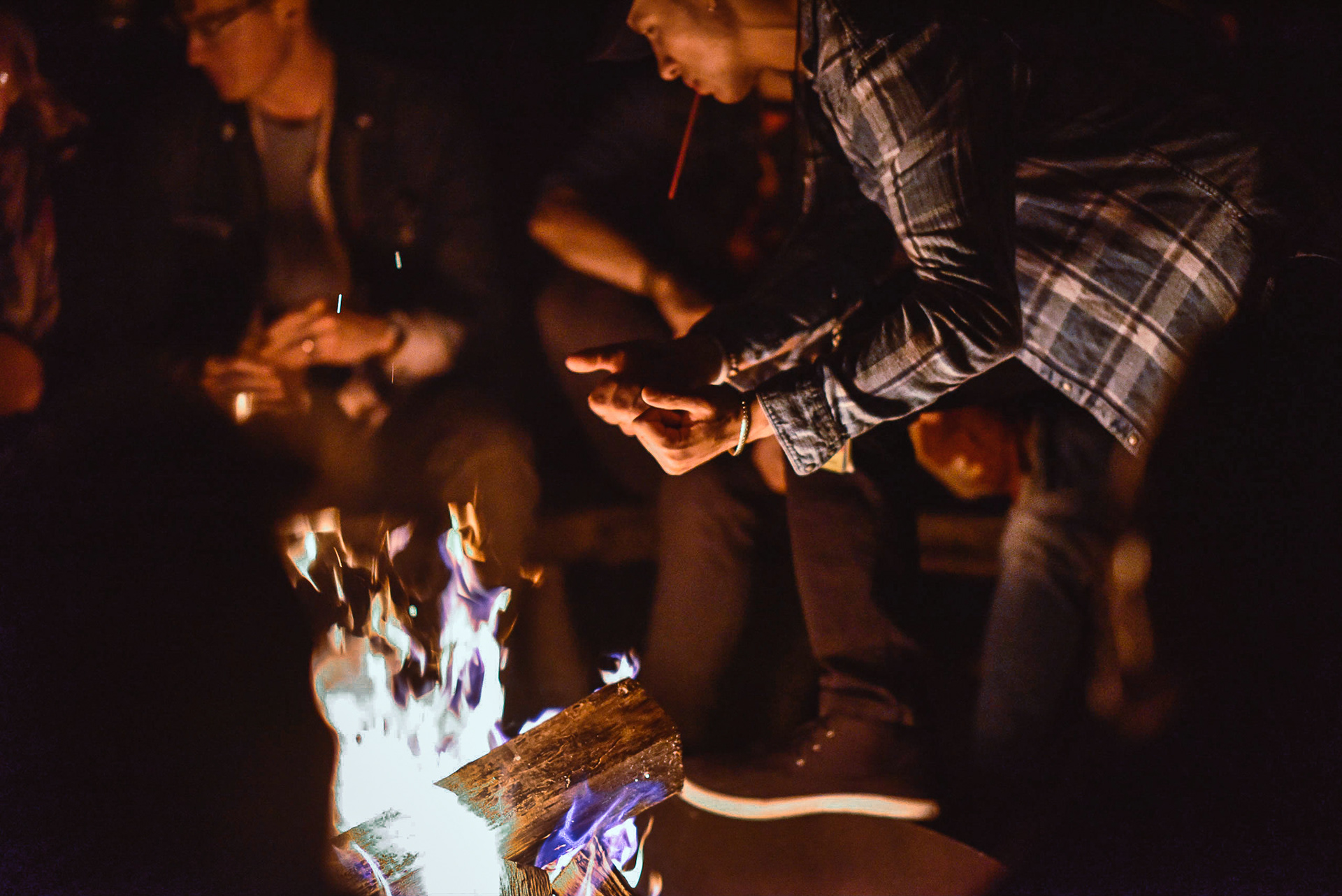 Finishing off the night by editing until 3 a.m. was exactly what I needed. I woke ready to finish off the rest of camp and execute strong as ever. My cohort in this project had to leave early, so I was in great shape to pick up where we left off and bring it all home. 

To cap the weekend, we had
Andy J. Pizza
, 
an American illustrator, podcaster and public speaker. 
His explosive color drenched illustrations have brought hope and smiles to clients like The New York Times, Nickelodeon, Amazon, YouTube and Warby Parker. 
Outside of his website about section bio, Andy is a real person. Like, not in terms of existence but authenticity and vulnerability.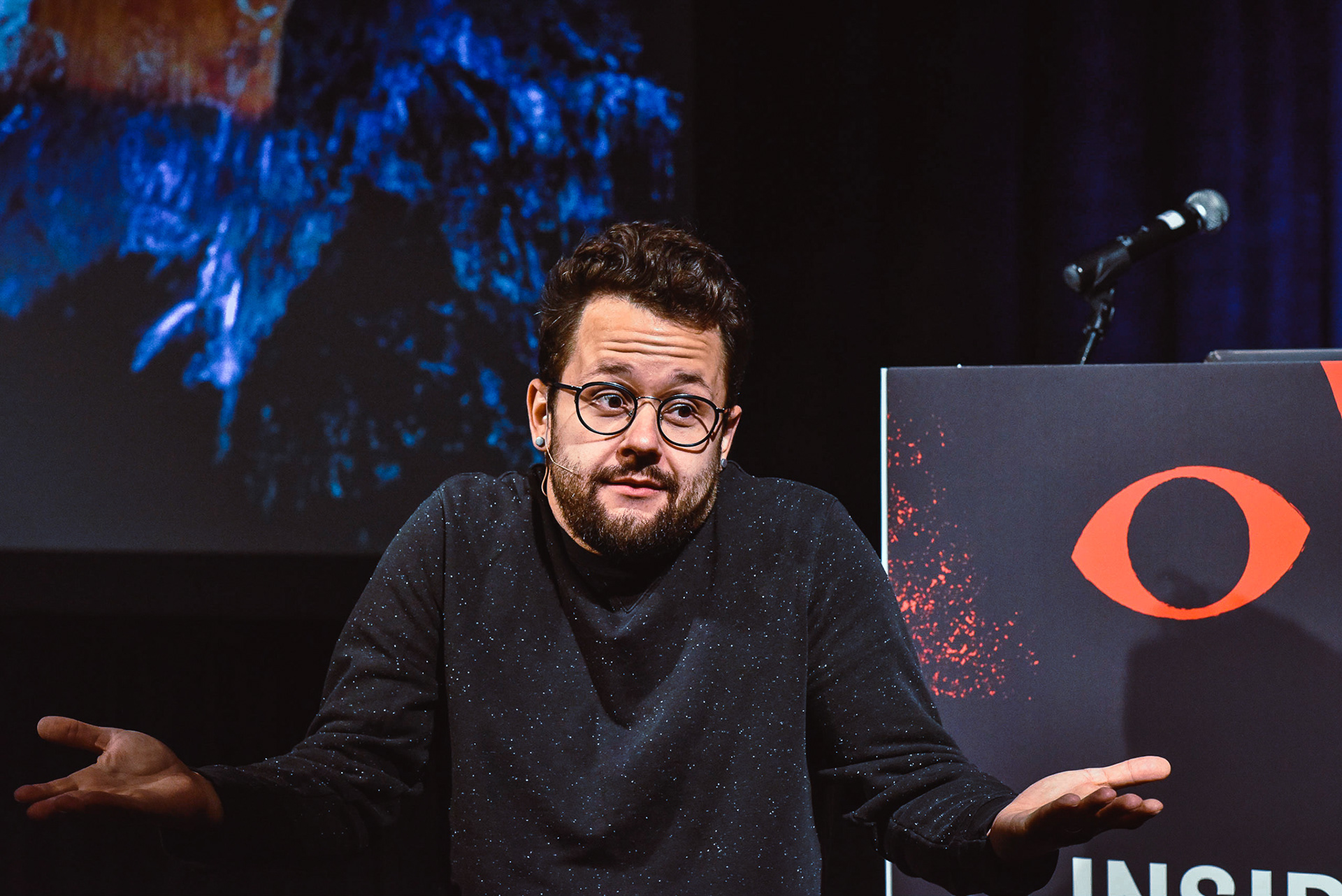 Andy's presentation was more of a testimony for a career in art and creativity. He was a goofball growing up who went through some tough shit, but wouldn't let it stop him. It built his perspective and pushed him to build a career and podcast mentoring and guiding young creatives through their Hero's Journey. He was clearly in front of the right audience. I could hear the crowd's laughs sprinkled often through his monologue and after getting some work done, stopped to absorb some words.
Things got emotional - real damn emotional. Here I was, listening to someone whose family struggled, managed drug habits, maintained a childish level of imagination and capitalized on experience to levels I'd aspired to for so long. But the way Andy spoke reached further than I had expected. Coming full circle on an idea that had seemed so negative, now a memory of the most reassuring compliments he had ever received - being just like his mother. Andy stumbled through subsequent slides barely holding back tears, but as his floodgates failed, ours did too.
Finished the morning off feeling inspired, motivated, mentored, and grateful. I had a long drive ahead of me to think so I head out with my things to the tune of
Creative Pep Talk
, Andy's podcast.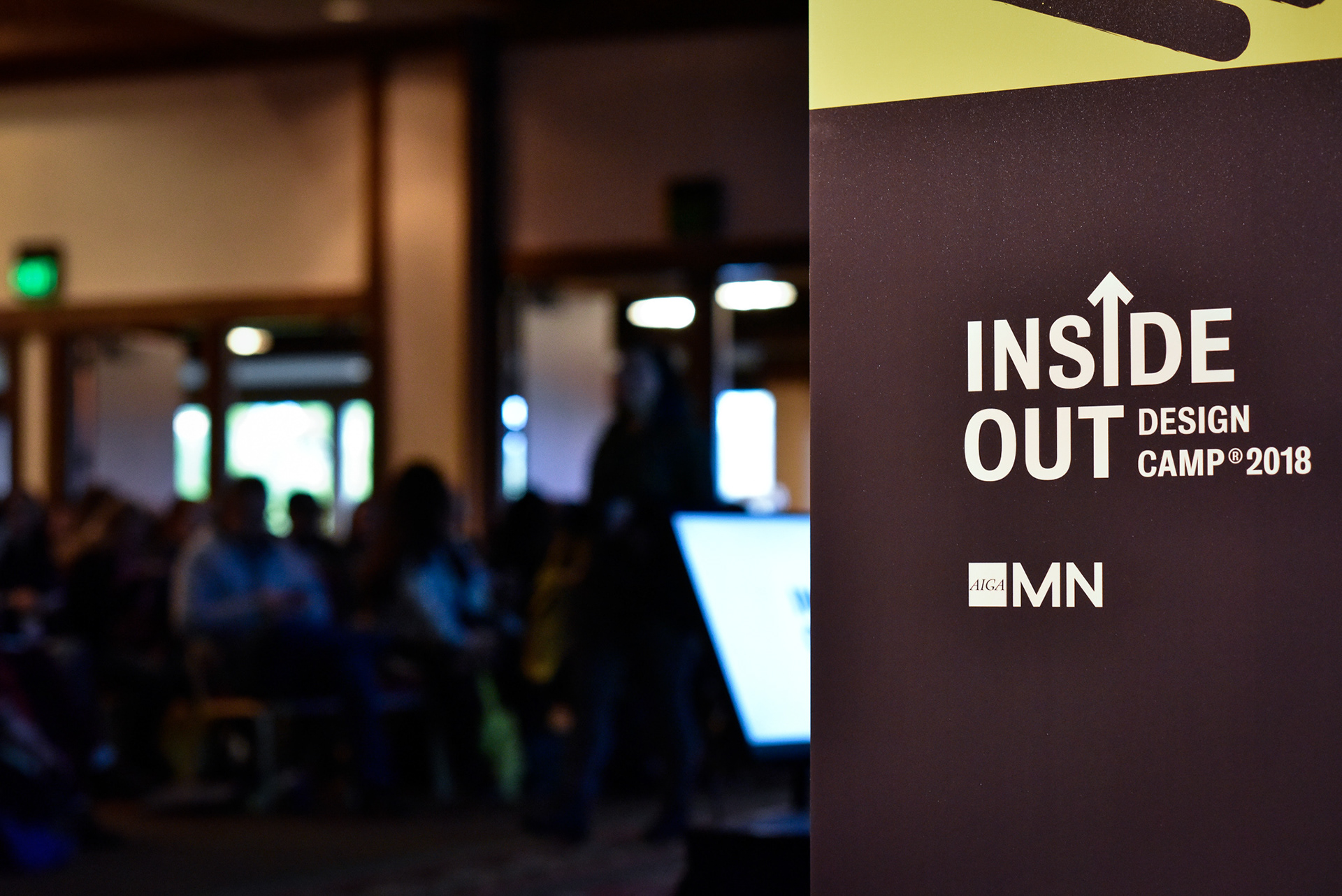 In hindsight, I came out of Design Camp quite differently than when I arrived. It left me with bodes of confidence, connections, and an invigorated perspective on my creative disposition. A newly formed pillar in my creative journey.
I'll be back for round 2, you can count on it.